8 of the Most Reliable Dodge SUVs
Dodge is an American automobile company based in Michigan, USA, that has been consistently producing luxurious sports utility vehicles (SUVs) for many years. Dodge's SUVs are known for their comfort, reliability, and practicality. For this reason, the company has had little difficulty maintaining a top position in the SUV market. Click the link below to give us a call with your questions about a used Dodge SUV in Centerville!
Our team at Performance Chrysler Jeep Dodge Ram Centerville has put together this list of some of the most reliable Dodge SUVs based on ratings from consumers and car enthusiasts.
Dodge Durango (2018, 2019)
The 2018 Dodge Durango is among the brand's most renowned models and ranked top of the list with a reliability score of 8.5/10.
Dubbed the company's best SUV when it hit the market, the 2018 Dodge Durango achieved instant success thanks to many irresistible features.
It had a spacious cabin with plenty of room within the third-row seats. Most drivers also loved the high-end standard features, including Android Auto and Apple CarPlay systems. The 2018 Durango also revitalized the customer experience by incorporating an extensive touch-screen user interface on the dashboard.
The 2019 Dodge Durango is another excellent SUV, ranked second in the Durango trail. It has a high-performance V-8 engine that delivers enough horsepower for all driving conditions. Other features include a user-friendly media system and attractive exterior and interior designs.
The latest model is the 2023 Dodge Durango, which has a powerful acceleration system and enhanced towing ability of 8,700 pounds. It also has a spacious cabin accommodating seven passengers, a user-friendly entertainment system, and a wide range of engine selections, including V-6 and V-8 delivering up to 700 horsepower.
1997 Dodge Durango
Dodge SUVs rolled into the market with a bang for the first time in 1997. The 1997 Durango borrowed heavily from the Dodge Dakota, which had a rugged look similar to that of a racing car.
The best aspect about the 1997 Dodge Durango was the choice of two engines. You could get the 4.7-liter or the 5.2-liter V-8 engine depending on your preferences. Due to the engine's power, the SUV achieved a top speed of 142 mph, which other SUVs couldn't hit.
2019 Dodge Challenger
The Dodge Challenger is another top SUV with a reliability rating of 5.4/10. The 2019 model came to the market with improved standard features, such as a powerful V-6 engine and a revamped exterior outlook on the SE trim level.
The engine features an all-wheel-drive train system suitable for various driving conditions and road surfaces. This is a high-performance masterpiece capable of producing up to 375 horsepower.
Unlike previous models, the 2019 Challenger has a revamped interior with standard leather seats and customizable designs. If you want to reduce the car's overall weight, you can simply remove the rear seats and restore them at your convenience.
2022 Dodge Charger
The Dodge Charger made an instant hit in the market thanks to its relatively affordable price compared to other SUVs.
The Charger typically comes with a convenience package, such as a security alarm to keep burglars away. It also has two incredible V-8 engine options for maximum power output. The 5.7-liter version produces 370 horsepower, while the 6.4-liter generates 485 horsepower.
Other high-end features include:
An 8.4-inch touch-screen display.
Android Auto play.
A leather-wrapped steering wheel.
A classic interior design.
2010 Dodge Grand Caravan
The Dodge Caravan is an ideal minivan for family or chartered travel. It has enhanced interior features such as the "Stow and Go" seating arrangement.
This unique arrangement has retractable seats in the second row, which can conveniently create a flat load floor for cargo.
Another iconic feature of this car is "Swivel and Go" where you can swivel the second-row seats to the rear and fit a customized table. In this way, you can have five passengers seated around a table in a dining format.
The 2010 Grand Caravan has a powerful audio and video system for onboard entertainment. Simply plug in your earphones and select your preferred music via the remote control when traveling in the car.
The 2010 Grand Caravan also operates on powerful V-6 engines. The base engine has a four-speed automatic transmission, producing up to 175 horsepower. With the 4.0-liter V-6 engine, you get 252 horsepower.
2009 Dodge Journey
The 2009 Dodge Journey has a reliability rating of 7.3/10 from consumer reports. At first, critics were skeptical about the car's engine performance, but this sturdy SUV proved to be reliable.
The Dodge Journey has a high rating for good fuel economy and a spacious cabin. The cabin has adequate space for up to five passengers, enabling you to travel conveniently with your family.
Regarding engine performance, the 2009 Dodge Journey operates on a 2.4-liter engine, producing a maximum of 235 horsepower. Fuel economy is 21-25 mpg for highway driving.
2008 Dodge Nitro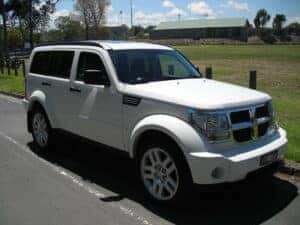 The Dodge Nitro first entered the SUV scene in 2007 amidst praise for its stylish exterior. At the time, it was one of the few Dodge SUVs with various color options.
In addition to exterior design, the Dodge Nitro has a spacious interior for up to five passengers. So, if you want a good vehicle for family travel, the 2008 Dodge Nitro should top your search list. In terms of engine performance, the 2008 Dodge Nitro has a powerful V-6 engine, producing up to 250 horsepower. The Dodge Nitro is available in three trim levels: Base SXT, SLT, and R/T.
2023 Dodge Hornet
The all-powerful Dodge Hornet combines excitement, reliability, and efficiency in one package. This five-seater SUV is available in four trim levels, with the GT Plus being the most popular.
Buying the SUV guarantees a gas mileage of 21 mpg in the city and 29 mpg on the highway. You also get an all-wheel-drive system courtesy of a powerful turbo engine.
Unlike many SUVs, the Dodge Hornet has a plug-in hybrid system that considerably reduces fuel consumption. This allows you to switch to electric vehicle mode and drive to your destination without requiring a gas refill.
Dodge is one of America's oldest and most highly rated vehicle manufacturers. With its relatively long-standing history, the company boasts some of the best and most reliable SUVs of all time.
Whether you're interested in the highly reputed Durango, the Dodge Journey, or the Grand Caravan for family travel, you'll find them at affordable prices.
If you have any other questions about Dodge SUVs, contact us online or give us a call at (937) 519-3542. AtPerformance Chrysler Jeep Dodge Ram Centerville, and our friendly team will be happy to help.
Image Credits: Image by Tom Reynolds is licensed with CC BY 2.0