5 of the Most Reliable Used RAM Trucks
The confident style and undeniable functionality of pickup trucks make them among the best-selling automobiles. The RAM series is one of the most well-known pickup truck lines, and you're sure to find a combination of power and price that fits your needs. Check out five of the most reliable, high-quality used RAM trucks at Performance Chrysler Jeep Dodge Ram Centerville. We'll also explain the main types of RAM trucks you'll find for sale.
Understanding RAM Truck Types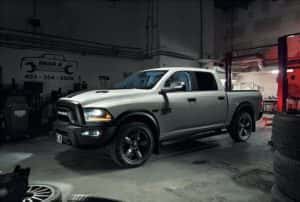 The RAM truck line comes in different sizes and has a few special editions. The RAM 1500 is the most common size, providing ample power for most uses. While all used RAM trucks offer excellent towing packages, you can find used RAM 2500 and 3500 trucks that step up the power and size for more serious towing or payload jobs.
Opinions on different generations regarding the most reliable used RAM trucks will vary, but there are a few trends to keep in mind. The RAM 2500 is famed for dependability and longevity, especially in the 2006 model year and later. If you want a powerful Cummins B Series engine, a used RAM 3500 may bring the towing or payload ratings you need, even if you go for a model from the early 2000s. Check out these five examples of RAM trucks, or browse our pre-owned inventory at Performance Chrysler Jeep Dodge Ram Centerville.
2020 RAM 1500 Classic
For the 2020 model year, RAM redesigned the appearance and features of its trucks. The brand revealed the RAM Classic to give drivers who prefer the older package and lower price the option to still get the RAM of their choice. The RAM 1500 Classic has a lower price tag than the newer RAM 1500, and it has the original features and styling that have impressed pickup truck fans over the years.
A 2019 to 2021 RAM Classic is the perfect combination of a reasonably priced, old-school truck in a recent production year. A standard RAM 1500 Classic Tradesman from 2019 with no add-ons has 18-inch steel wheels with aluminum replacements on higher trims. The Classic also benefits from a full steel frame and active grille shutters.
2016 RAM 1500
Slightly earlier into the fourth generation, we can recommend shopping for a 2016 RAM 1500 for a couple of reasons. This model saw the debut of the new Rebel trim level, which boasts off-road suspension with an extra inch of ride height, wider tires, and skid plates. The RAM 1500 Rebel is available with either a V-6 or a HEMI V-8 engine. Four-wheel drive is offered with both engine options to improve off-road capability.
When shopping for a 2016 RAM 1500, pick the Rebel, the SLT, or higher for the best entertainment features, such as the 5-inch display for the infotainment system. This screen became more accessible in the 2016 and later model years.
2021 RAM 1500
If like-new RAM trucks appeal to you most and you're looking for a great deal on a half-ton model, why not consider a 2021 or 2022 RAM 1500? When it comes to full-size pickups, RAM models are an excellent choice. They have impressive power and luxury. RAM focuses on providing industry-leading interior cabin comfort and superior ride quality. From 2021, we will see even more drive control and infotainment enhancements.
The 2021 RAM 1500's trim levels and package selections offer many combinations. If you know you'll be driving on rugged off-road trails, keep an eye out for the TRX introduced that year. This well-equipped, high-performance off-roading RAM truck earned impressive performance ratings and sports with 35-inch off-road tires.
RAM 2500/3500 Turbo-Diesel I-6
Although all RAM trucks hold their value well with proper service and maintenance, some of the best performers have been RAM 2500 or 3500 trucks equipped with a Cummins turbo-diesel engine. Trucks with 100,000 miles can be found for a few thousand dollars less than a new equivalent. The RAM 3500 brings the highest potential work ratings, such as up to 14,790 lbs towing capacity or 4,644 lbs payload capacity.
Which model year of the super-sized RAM to get will depend on a few things. You might feel you have to look at older generations to stay within budget, but you could get an unbeatable deal on a newer, certified pre-owned RAM truck. You may be able to find a barely driven RAM 2500 or 3500 from 2019 or later, all with your preferred engine, trim level, and other features, through our inventory.
2018 RAM 1500
Perhaps something between the 2016 edition and brand-new RAM trucks would fit the bill. In that case, the 2018 edition of the RAM 1500 is tough and customizable, has excellent handling, and offers a comfortable ride. From 2018 onward, RAM's reliability ratings climbed even higher, and infotainment system optimizations made the software even easier to use. You'll also still have the design updates from the 2016 year while staying below the price range of a 2020 or later model.
Benefits of Buying a Used RAM Truck
Although a brand-new RAM has its appeal, purchasing a used truck has numerous advantages. The cheaper price point is a significant consideration. It allows you the chance to stretch your dollar and get more safety, entertainment, and other features. There's also less vehicle depreciation, and prior owners will have worked out any recalls or quirks that may have arisen after buying it new.
Many of our customers around Centerville and Dayton area value a truck that has been broken in. This is especially true if the new owner shares a common interest with the previous owner, resulting in a truck already tailored to the new owner's needs. All sizes and styles of RAM trucks improve each year. A five or six-year-old model is likely to remain a reliable, high-value vehicle for decades.
As you can see on our site, we have several options available when you're looking for a used RAM. We chose these five examples of pre-owned RAM truck models we think are particularly impressive, but the options extend much further. Give us a call at (937) 519-3542 or contact us online at Performance Chrysler Jeep Dodge Ram Centerville, and we'll help you choose the right used truck.
Image Credits: Image by Paul Kansonkho is licensed with Unsplash License