Best Used Ram Trucks for Towing
Ram trucks are distinguished for their dominant horsepower and unmatchable torque, just as the emblem on the front grille signifies. These pickup trucks can tow the heaviest loads effortlessly for a smooth hauling experience.
They're aesthetically pleasing, given that they belong to the same family as Dodge. Moreover, they're reliable and can last years without exceeding your maintenance budget. Whether towing a trailer, boat, or camper, you can rely on a Ram truck to deliver beyond your expectations.
Here's a list of the best pre-owned Ram trucks for towing in 2023.
2021 Ram 1500 Lone Star
Sometimes it isn't easy to choose between comfort and capability when buying a pickup truck. Fortunately, the 2021 Ram 1500 Lone Star offers both. This full-size pickup truck has a luxurious interior with fine leather finishes for maximum comfort. The spacious legroom, reclining seats, and advanced entertainment features ensure a comfortable and exciting ride even on rough terrain.
But don't let its intricate interior design deceive you. The Ram 1500 Lone Star isn't less capable than any of its counterparts. It provides a commanding payload and towing performance. When equipped with the 5.7L HEMI V-8 engine, the truck can pull up to 12,750 pounds and carry loads of up to 2,300 pounds on its bed.
2020 Ram 1500 Big Horn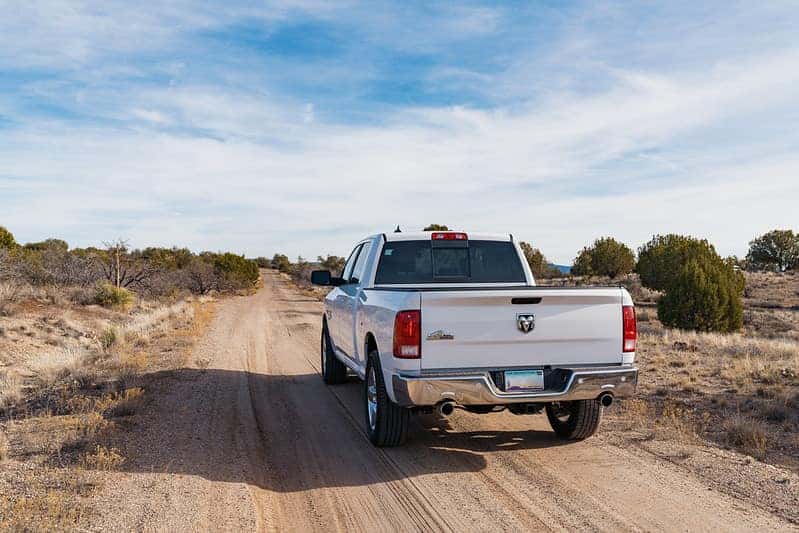 The 2020 Ram 1500 Big Horn doesn't differ significantly from the Lone Star trim. They have almost identical features and configurations. The only difference is the shape of the badge. The Big Horn has a rectangular emblem on its tailgate, while the Lone Star has a map of Texas.
You'll notice that the 2020 Ram 1500 Big Horn has a towing capacity of 6,750 pounds when equipped with a 3.6L Pentastar V-6 engine. Fortunately, you can increase its towing capacity to 12,750 pounds by upgrading to a 5.7L HEMI V-8 engine. The payload capacity remains the same as the 2021 Ram 1500 Lone Star. The truck also has a 10-inch rear axle with a four-corner air suspension to boost its towing performance when pulling heavy loads.
2021 Ram 1500 Laramie
The 2021 Ram 1500 Laramie is another full-size pickup truck worth considering for your towing tasks. It provides a dominant towing and hauling performance without compromising comfort. It features a robust 5.7L HEMI V-8 engine with fuel-saver technology for enhanced fuel efficiency during long hauls.
The redesigned 2021 Ram 1500 Laramie is longer and wider for an enhanced payload capacity. Depending on the configuration, expect a maximum towing capacity of up to 12,750 pounds and not less than 9,920 pounds. The truck is perfect for pulling trailers. It has a blind-spot monitoring system with trailer detection to ensure the safety of your load when maneuvering different terrains. The four-corner air suspension maintains an even profile when loaded for improved handling.
2021 Ram 1500 Rebel
If you are an off-roader searching for a rugged truck with uncompromising towing capabilities similar to other Ram 1500 trims, the 2021 Ram 1500 Rebel is what you need. Thanks to its electronic locking rear axle and four-wheel-drive layout, this evolutionary pickup truck is distinguished for its impeccable off-roading performance. It can handle steep terrain effortlessly, even when towing heavy loads.
Despite its rugged design, it's among the most comfortable Ram trucks you can ever own. Its 33-inch tires provide extra traction and stability, ensuring a less bumpy ride even when off-roading. The luxurious interior has numerous tech features to keep you entertained as you work your socks off, hauling heavy loads.
The Ram 1500 Rebel has a powerful 5.7L HEMI V-8 engine that delivers 390 horsepower and up to 410 lb-ft of torque. Its maximum towing capacity is 12,750 pounds, matching other Ram 1500 trims. Whether towing a camper to the woods or a boat to the lakeside, you can rely on the 2021 Ram 1500 Rebel to deliver.
2018 Ram 1500 Tradesman
The 2018 Ram 1500 Tradesman is the most affordable truck on this list. Although it has a lower price point than its counterparts, it still delivers an incredible towing performance. This 1500 trim is comparatively one of the best performers. It features the classic 3.6L Pentastar V-6 engine, which delivers 305 horsepower and up to 269 lb-ft of torque for an unrelenting pulling capacity.
The Crew Cab model has a maximum tow capacity of 7,500 pounds and can safely carry loads weighing up to 1,820 pounds. Of course, these figures vary depending on whether the truck has the proper towing equipment. Fortunately, Ram trucks come with a standard tow package for enhanced towing safety, reliability, and performance.
2016 Ram 3500 Tradesman
2016 might seem like a long time ago, but the 2016 Ram 3500 Tradesman trim holds its own against newer models as one of the most powerful trucks. It features a dominant 6.7L intercooled turbo-diesel I-6 engine that offers top-of-the-range 408 horsepower. The standard-output Cummins engine delivers up to 850 lb-ft of torque, while the high-output version offers 1,075 lb-ft of torque.
The impressive pulling power is essential for enhanced strength, control, and acceleration when hauling heavy loads on steep roads. A used 2016 Ram 3500 truck can carry loads weighing up to 7,390 pounds and has a maximum towing capacity of 31,210 pounds when equipped with the proper equipment.
Are You Ready To Test-Drive the Best Used Ram Trucks?
Choosing the best pre-owned Ram truck for towing depends on your preferences and hauling needs. After all, Ram pickup trucks have almost identical features and capabilities. They're renowned for their commanding payload and towing performance, making them ideal for pulling and carrying heavy loads.
If you reside in the Centerville, Ohio, area, you can drop by Performance Chrysler Jeep Dodge Ram to view our extensive fleet of pre-owned Ram trucks. Our team is ready to show you around as you compare the various trucks in our inventory. Contact us today to schedule a test drive and find the best Ram truck for all your towing needs.
Dodge Ram 1500 Classic Big Horn HEMI 5.7-liter pickup truck by Tony Webster is licensed with CC BY-SA 2.0