RAM 1500 vs Ford F-150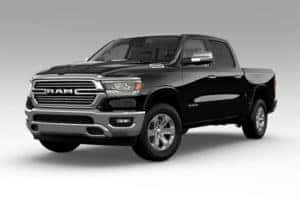 If you're looking to purchase a new truck, you might want to consider the various options, features, and benefits of multiple manufacturers and models. The Ram 1500 and Ford F-150 provide two of the most popular truck models for customers interested in a vehicle with power, performance, and durability.
The 2022 Ram 1500 provides an array of trim options and customizable features to enhance the performance, strength, and capabilities of the truck. This model holds popularity as one of the best heavy-duty pickups for its large towing capacity, durability, and power. Many customers know the Ford F-150 as a dependable, tough, and heavy-duty pickup truck. The F-150 offers trim-level options and model designs to fit every need and help you get the job done. Comparing the various components of these models can help you determine which truck fits your needs and provides the best value for your money.
Horsepower
The different models and engine options for the 2022 Ram 1500 provide varying levels and measurements of horsepower. The Limited trim has a horsepower of 395 at 5,600 rpm. Limited Longhorn, Rebel, Laramie, Big Horn, and Tradesman trim all feature 395 horsepower at 6,400 rpm, meaning all trim levels can provide you the power you need on a daily basis.
The famous power of a Ford translates to the F-150 trims and models to provide high horsepower that creates a smooth drive and heightened towing capacity. Different trim levels and engine designs provide varying power and outputs. The 3.3-liter V-6 engine produces 290 horsepower, while the 2.7-liter V-6 engine offers an output of 325 horsepower. Both the 5-liter V-8 and 3.5-liter EcoBoost V-6 engines have a horsepower of 400. A high-output version of the 3.5-liter EcoBoost offers additional power with an output of 450 horsepower.
Performance
The Ram 1500 features a rear coil-spring suspension system that provides a soft and smooth drive. The Limited trim includes a 5.7-liter V-8 engine that provides extra horsepower and performance for the Limited model. All other trim levels operate on a 3.6-liter V-6 engine. All Ram 1500 models include an eight-speed automatic transmission and rear-wheel-drive systems that provide additional control and strength for driving, hauling, and towing.
The F-150 offers engineering and features to handle all jobs and conditions. The variety of engine and power options makes it easy for you to find a model that provides enough power and handling to tackle your daily tasks. All F-150 models also include adaptable driving modes for increased traction and safety in the rain, snow, ice, mud, and uneven terrains. All F-150 models deliver power through the advanced 10-speed automatic transmission. This vehicle provides a smooth and powerful ride in all conditions, as well as in off-road environments.
Fuel Efficiency
The 2022 Ram 1500 provides an EPA estimated fuel efficiency of 20 mpg in the city and 25 mpg for highway drivers. The Limited trim with the larger engine has a slightly higher fuel consumption, with an EPA estimated efficiency of 15 mpg in the city and 22 mpg on the highway.
The 2.7-liter engine models of the F-150 offer an estimated 20 mpg in the city and 26 mpg for highway driving. Larger 3.5-liter models have about 18 mpg in the city and 24 mpg on the highway. The 3.3-liter engine provides an estimated 19 mpg for the city and 24 mpg for highway driving. 5.-liter V-8 engines in this model have an estimated efficiency of 17 mpg in the city and 24 mpg on the highway. The most efficient model is the 3.5-liter two-wheel-drive hybrid, which provides about 25 mpg for city and highway driving.
Towing Capacity
Ram 1500 trucks that have the 5.7-liter V-8 engine offers extended towing capacity with the ability to tow a maximum of 12,750 pounds when properly loaded and equipped. Other models with the smaller engine feature a towing capacity of 7,730 pounds.
Customers looking for a heavy-duty truck with great performance and a high towing capacity can consider the F-150 as a powerful tool for towing and hauling equipment. The strongest F-150 model offers the ability to tow up to 14,000 pounds with proper equipment and loading. Technology advances, such as onboard scales in the truck's bed and the available Ford Smart Hitch system, make it easy to load, attach, and tow equipment properly and safely.
Overall Comparison
The Ram 1500 and Ford F-150 both offer durable exteriors, features, and engines that provide the power and handling necessary in a heavy-duty pickup. Both vehicles offer advanced horsepower, technology, and capacities that give them the ability to handle daily tasks and large loads with ease.
The flexibility provided by the multiple levels and engine lineups of the F-150 allows for some vehicles with better power and fuel efficiency and also adds the benefits of a hybrid model option. The F-150 also includes a higher towing capacity, but both vehicles can provide strength and power, depending on your needs. On the other hand, the Ram 1500 can provide the durability and longevity of Ram manufacturing and design for a smooth drive and added control for drivers.
Selecting the right truck for you can make all the difference when performing your daily tasks and towing large loads. Both Ford and Ram produce heavy-duty pickup truck models with a selection of features to meet all of your needs. The features and benefits of both the Ram 1500 and Ford F-150 can provide you with a great vehicle.
At Performance Chrysler Jeep Dodge Ram of Centerville, OH, our sales staff can help you find a truck that makes your daily work and drive as easy and enjoyable as possible. Feel free to contact us to ask about our selection of trucks or schedule a test drive today. You can also view our inventory of new trucks and vehicles online or come see our staff to learn about our trucks and determine which one is the best for you. We aim to serve customers and communities with the best vehicles possible for their individual needs and desired features. Give us a call at (937) 519-3542.